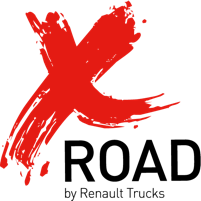 ROBUST USED TRACTORS FOR DEMANDING APPLICATIONS
The T X-Road is a T range truck transformed and adapted by the manufacturer to work in a challenging environment. The X-Road is sold in our used truck centers and benefits from a 12-months manufacturer's driveline warranty. The truck fits perfectly with construction site roads and transport with tipper or semi-tipper applications. The Euro 3 certification is including on this vehicle.
RANGE T X-ROAD
THE TRACTOR TO WORK IN DIFFICULT CONDITIONS
1.    TRACTOR 4X2 and 6x2 EURO 6, 11L 460 CV
2.    ROBOTISED GEARBOX WITH OFF-ROAD MODE AND HAND THROTTLE
3.    DIFFERENTIAL LOCK
4.    NEW 225 AH BATTERIES
5.    GROUND CLEARANCE INCREASED BY UP TO 60MM
6.    METAL SIDE BUMBERS AND GUARD TO PROTECT THE AFTER-TREATMENT UNIT                        AND EXHAUST SYSTEM
7.    HEADLAMP PROTECTIVE GRILLES
8.    BLACK IDENTIFICATION PLATE
9.    ALL ROAD 315/80 R22.5 MIXED-SERVICE TYRES
10.  BLACK VISOR AND MIRROR CASING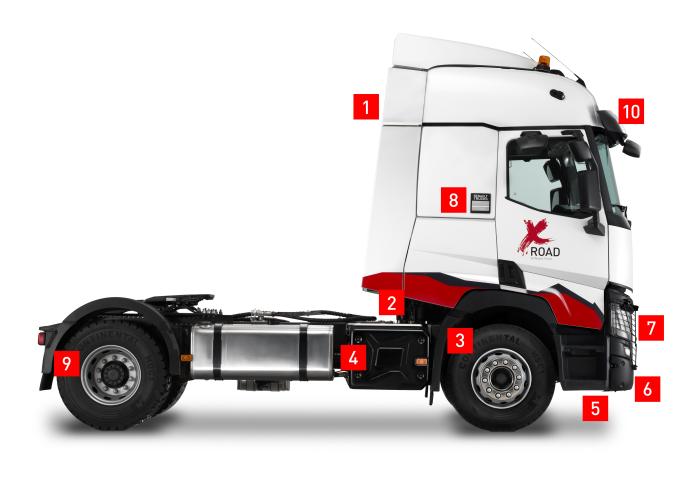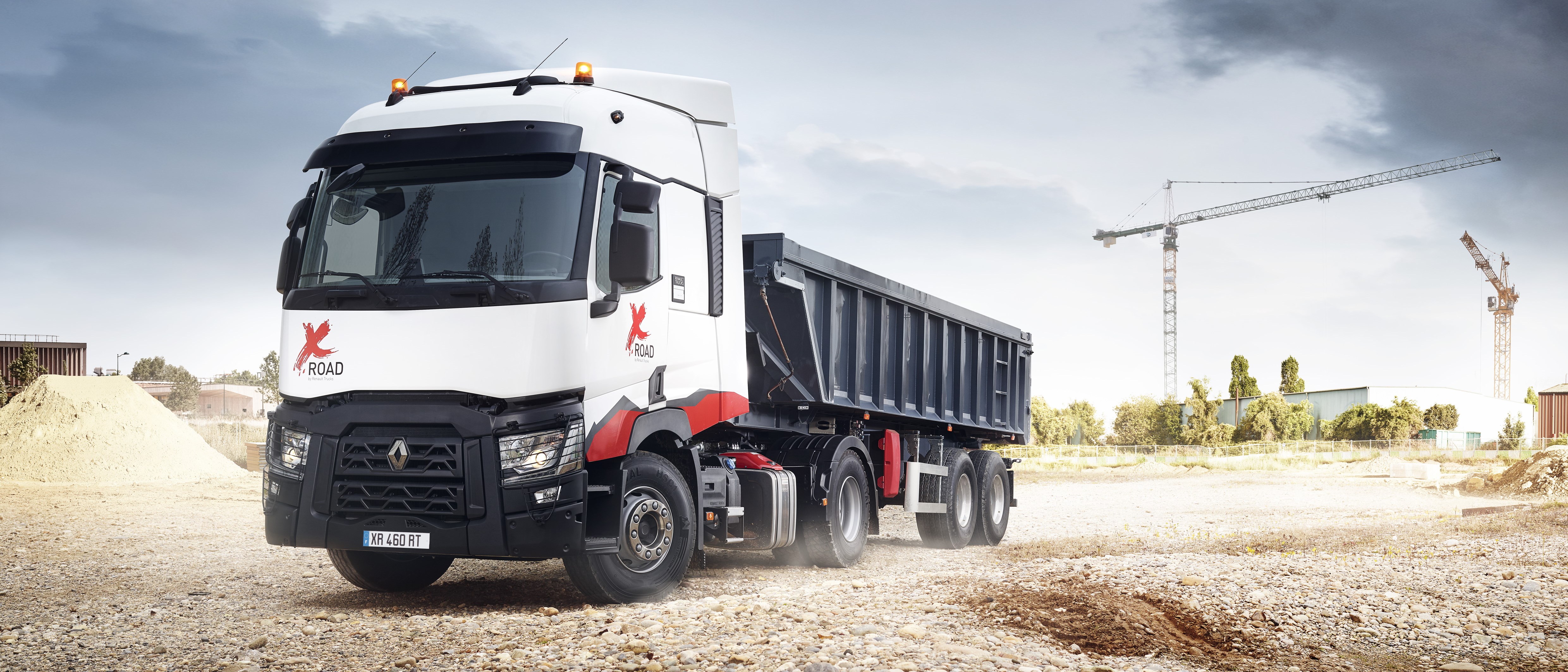 ROBUSTNESS
The Renault Trucks T X-Road is selected, checked and modified in the Renault Trucks factory : with reinforced body parts, ground clearance increased by up to 60 mm to overcome obstacles, a DTI 11 engine with off-road mode gearbox, hand throttle and differential lock for maximum traction and mobility. These modifications carried out in our factory ensure the quality and robustness of the Renault Trucks T X-Road. A truck that won't let you down.
Renault Truck T X-Road is an approved vehicle that benefits from the manufacturer's driveline warranty.
 
A TAILORED-MADE CONFIGURATION TO FIT TO YOUR BUSINESS
With the T X-Road, Renault Trucks offers vehicles that are ready for demanding applications : construction site approaches, transport in challenging environments, tipper truck applications, heavy material transport and agricultural activities.
You can configure a Renault Trucks T X-Road with tailor made options to fit to all your business needs : hydraulic kit, radiator protective skid, rear axle ratio, LED rotating beacon lighting, additional tanks and fifth wheel height.
AVAILABILITY AND PROXIMITY
Wherever you are, Your Renault Trucks dealer has access to the widest range of used vehicles throughout Europe. 
Each truck T X-Road has been thoroughly inspected against a list of 200 checkpoints in accordance with the manufacturer's standards and procedures before its transformation in the factory.
Your used vehicle is recognized in the Renault Trucks dealer network. In each dealership specialists are at your service, with high-performance equipment adapted to your vehicle technology, using only genuine parts and supporting you in your daily operations.